About Our Clinic
Gums n Smiles Dental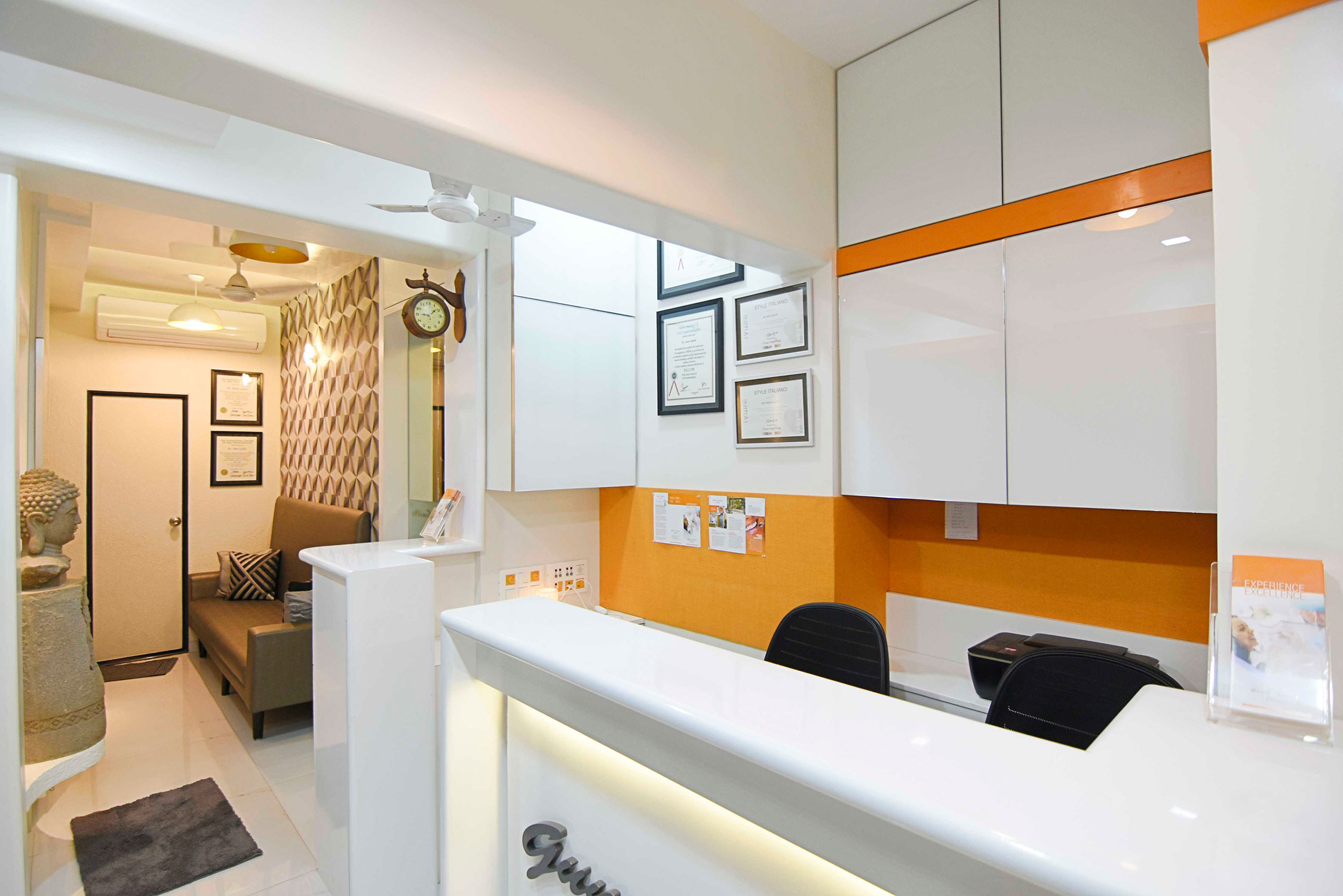 Situated in the heart of the western suburbs…Andheri W.. in the posh locality of Versova, Mumbai India is Gums N Smiles Dental Centre!!
Our Mission
To provide World Class Oral Care, from Implants to Cosmetic & Laser Dentistry to Full mouth Rehabilitation, besides the latest in General & Restorative Dentistry, in the most relaxing environment, ensuring a gratifying patient experience.
Professionals in our Clinic
Dr. Amit Gulati - BDS, MDS (MUM), FISOI, FICOI (USA)
Dr. Pankti Gulati - BDS (MUM), FICOI. (USA)
Dr. Kaunain Gheewala - BDS (MUM)
Dr Akshay Doshi - BDS MDS (Orthodontics)
Dr. Anushka Aggarwal - BDS MDS (Endodontics)
ORANGE is Vibrant.It denotes Energy and Warmth! It is Mentally Stimulating and Sociable!
WHITE projects Purity, Cleanliness and Neutrality!
SILVER GRAY is Cool, Livlier and Playfull.It is Glamorous and Elegant!
It is a combination of these three that gives GUMS N SMILES a DISTINGUISHED IMPRESSION!! Situated in the heart of the western suburbs..Andheri…in the posh locality of Versova is
GUMS N SMILES DENTAL CENTRE.
W
e, at Gums N Smiles, believe in offering you the best for that beautiful smile you always wanted on a strong foundation of good healthy gums!!! We offer all types of oral and dental therapies, using the very latest technologies and equipments available in the dental world today.
L
ASERS…. the latest to bring about a revolution in the dental field…for all those who shiver on the dental chair is available at GUMS N SMILES….for that absolute pain free root canals and surgeries you always wished for!!! Our practice is totally devoted to the purpose of providing you not only the natural beauty of your smile, but also restoring the health of your gums and teeth, so that your smile lasts you a life time.
T
o ensure this, the doctors at Gums N Smiles, check the overall health of your teeth and gums, take x-rays and study models and then provide you with a comprehensive treatment plan. The doctors take time to sit and discuss with you the treatment options, know and understand the patients expectations before proceeding with the treatment, to give you that long lasting healthy smile, using the most conservative approach and state of art technologies.
S
TERILIZING PROTOCOLS AT GUMS N SMILES………Also at Gums N Smiles, we understand the importance of infection control.To protect our patients and ourselves, we maintain strict sterilization protocols, wherein every instrument is scrubbed with a disinfectant. After being immersed in an ultrasonic bath with dis-infecting enzyme, the instruments are pouched and untouched by hand.They are then autoclaved (steam sterilized) and kept in ultra violet chambers. Disinfecting spray is used on dental chair and working table after each patient and the entire clinic is swabbed with an anti-microbial solution twice daily!!
V
isiting a dental clinic is not really inviting for anyone and most dread the thought of sitting on the chair. At Gums N Smiles, we try to make the visit and experience a pleasant one. Though the waiting is not much, (as we prefer working by prior appointments only)…you have a choice of listening to soft music and sip green tea in a soothing ambience to settle your rattled nerves!!!!
O
ur entire team, doctors and friendly staff is always dedicated to provide you personalized care and service to make your visits as comfortable and pleasant as possible!!! This reflects in the beautiful smiles of our model and make our website oh so beautiful!!
G
ums N Smiles Dental Centre, is also a training centre for dental implants and lasers, for the enthusiasts who want to sharpen their skills with the latest in dental technologies! A weekend every month is when you shall see, dentists busy with workshops on dental implants and lasers headed and orchestrated by Dr.Amit and Dr.Pankti Gulati.
Our Happy Clients
Testimonials

After a really long time I have found a great dentist who really knows his job and guides you well.I'am satisfied and happy with his work…God bless you n you keep rocking.

Its been a pleasure knowing you. Thank you for your skillful work and affordable payment plans. Your gentle touch and skillful dentistry is a credit to your proffession. Your well run office makes each visit a pleasure. Thank you for giving me a reason to smile!!!!

I always thought going to a Dentist means visiting Hell on Earth. After I visited Dr. Amit I realized "dentistry is painless"!!! Honestly I've totally enjoyed my sessions with him and finally got educated in oral Hygiene !!Basically "he is the best"!!
Gums n Smiles Dental
A team of highly qualified dentists, keeping themselves abreast of the latest in dentistry and making these technologies available to you.
Make Appointment or call +91 9930457843